Dady is an elder law attorney with over 20 years experience helping the elderly, disabled, and their families with issues related to long-term care costs, estate planning and estate administration, and guardianship and conservatorship.
❦ Estate planning
Dady helps with planning for an estate and preparing documents necessary to provide a client protection and assistance both in lifetime at death.  Her practice focuses on estate planning for the elderly or the disabled, with special attention to issues common to these groups.
❦ Disability and Government benefits
Dady helps disabled adults and parents of disabled children with issues related to estate planning and protecting or ensuring continuation of government benefits. Frequently this assistance comes in the form of setting up specialized trusts (called Supplemental Needs or Special Needs Trusts) that allow a disabled person to continue to receive government benefits.
She has been involved as a consultant in divorce situations that involve a disabled spouse or a disabled child.
❦ Guardianships and Conservatorships
Dady provides assistance to families who need, but lack authority, to act for a family member who is no longer able to act for him or herself. In every case, Dady looks to see how help can be provided at the least cost to the individual and where possible without court intervention. In some cases, family must go to court to get authorization to act. These type of matters are called "protective proceedings."
There are two types in Oregon:
1) A guardianship may be needed if someone needs help in making decisions and authorizing medical care and placement. These situations often arise when a parent or spouse can no longer live safely in the home.
2) A conservatorship may be needed when someone needs help in handling their financial matters and they are no longer able to authorize someone to act for them. Another common situation unfortunately is when an adult is being taken advantage of financially by others, but can not protect themself.
❦ Long Term Care Planning and Medicaid Benefits
Dady helps adults with planning related to long-term care. This frequently involves assisting elderly and their families with understanding the costs assisting families in determining eligibility for government resources to pay for long-term care, including Medicaid and Medicare benefits. Often this involves helping families with strategies to maximize savings and income.
❦ Estate Administration and Probate
Dady helps with the administration of estates after a death. This may involve a one-time consult, or may involve ongoing assistance related to probating a will or administering an trust estate.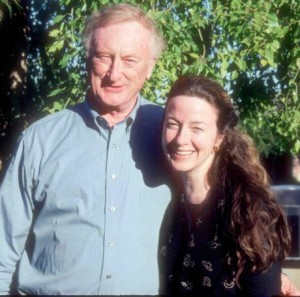 Dady and her dad.